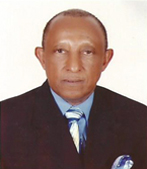 Qualification and Experience
Mr. Alemayehu Haile is the Founding Partner and Chairman of C&H Groups and responsible for International Business Development of the Company. He is the Founder of Ethiopian National Insurance Corporation (NICE), the first privately owned insurance company in Ethiopia. Mr. Haile currently serves as Board Chairman in (DASSET) Private Ltd.
Company that specialize in real state, (Marianne) Trading PLC a ground coffee producer with several chain restaurants and (AAlemDess) Private Limited trading and service provider Company to name a few. He is also a board member of United Nations Staff Credit Association and St. George Sport Club.
Mr. Alemayehu has held key senior management positions in the United nations for over 25 years and worked in various companies at various levels in the US in the are of Project Management, Finance and Administration where he was involved in implementation of various projects in Africa and led several successful projects and programs.
He has more than 30 years of project management, administrative and financing experience, in Africa and the US. Mr. Alemayehu has developed in-depth knowledge of project & programme management, financing, current corporate governance trends and best practices investment mechanism, which he utilizes in his day to day interaction with clients as Chairman of the C&H Groups.
He holds a degree in Accounting (BSc) and Masters in Administration & Finance, California, USA.
"Our deepest fear is not that we are inadequate, but rather that we are powerful beyond measure"